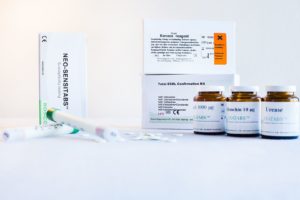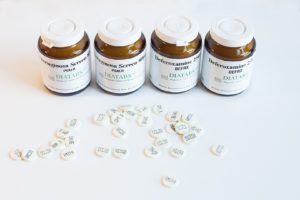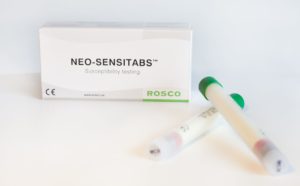 Unique formulation Neo-Sensitabs are tablets manufactured by a process using crystalline Antimicrobial. This unique formulation results in:
Very stable and homogeneous product
No loss of activity due to degradation of the antibiotics
Controlled and uniform release of antibiotic into the agar
Uniform and reliable results at all times
Storage and use at room temperature*
Large easy-to-read printed codes
Long shelf life – up to 5 years Extensive 
Ready for instant use, no need for acclimatization to room temperature No need for special storage or refrigerator facilities
Long shelf life – up to 5 years Extensive and complete range
Currently the range comprises a total of over 125 different antimicrobial agents and combination tablets.
Logical 5-figure alpha-numeric code- Easy and safe identification of the individual tablet – Optically readable by automatic reader systems
Meeting the needs and requirements of different standards
Susceptibility testing with NEO-SENSITABS™ practice is performed according CLSI and EUCAST guidelines.
The unique formulation of Neo-Sensitabs also makes it possible to manufacture tablets containing difficult compounds like and still obtain the long-time stability characteristic of Neo-Sensitabs.
Imipenem + EDTA
Daptomycin + Calcium
Caspofungin
* A few Neo-Sensitabs need to be stored at 2-8°C. When opened and in use, they are stable at room temperature for up to 2 months.